Whirlwind

Biographical information
Real name

David Cannon

Physical description
Species

Mutant

Gender

Male

Personal information
Powers

Wind Manipulation

Equipment

Blades

Profession

Super-Villain

Production details
First appearance

Doomed (Photo)

Last appearance

Awesome (flashback)

GALLERY
Whirlwind (real name David Cannon) is a super-villain and an enemy of Ant-Man and Spider-Man.[1]
Physical appearance
Whirlwind wears an armor where the eyes are visible. The helmet has a rocket shape. He wears full body armour and employs two saw blades attached to his wrists[1]
History
David Cannon discovered his mutant abilities at an early age. he grew up to be a proffesional criminal. At a certain point of time, Whirlwind was captured by Spider-Man and later escaped.[1]
He could be later seen on the Helicarrier's monitor as one of S.H.I.E.L.D.'s Most Wanted supervillains.[1]
Powers and Abilities
Appearances
Background in other media
This is Whirlwinds fifth animated appearance of Whirlwind. Previous versions include Iron Man the Animated Series, The Avengers: United They Stand, The Super Hero Squad Show and The Avengers: Earth's Mightiest Heroes.
References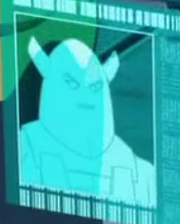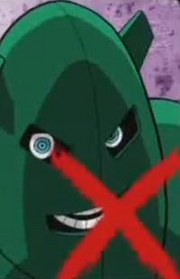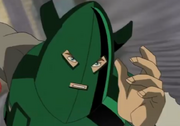 Community content is available under
CC-BY-SA
unless otherwise noted.