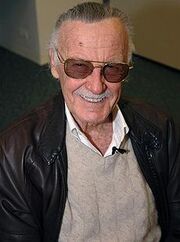 Stan Lee (born December 28, 1922-died November 12, 2018) was an American comic book writer, editor, actor, producer, publisher, television personality, and the former president and chairman of Marvel Comics.
He graduated from writing filler to actual comics with a backup feature, "'Headline' Hunter, Foreign Correspondent", two issues later. Lee's first superhero co-creation was the Destroyer, in Mystic Comics #6 (Aug 1941). Other characters he created during this period fans and historians call the Golden Age of comics include Jack Frost, debuting in USA Comics #1 (Aug. 1941), and Father Time, debuting in Captain America Comics #6 (Aug. 1941).
With several artists,he co-created Spider-Man, the Hulk, the X-Men, the Fantastic Four, Iron Man, Thor, Avengers and many other fictional characters, introducing complex, naturalistic characters and a thoroughly shared universe into superhero comic books. In addition, he headed the first major successful challenge to the industry's censorship organization, the Comics Code Authority, and forced it to reform its policies. Lee subsequently led the expansion of Marvel Comics from a small division of a publishing house to a large multimedia corporation.
Stan Lee makes a animated cameo appearance in the Ultimate Spider-Man as himself, but instead of a comic book writer, he is a janitor and reprises his voice.
Roles
External Link
Community content is available under
CC-BY-SA
unless otherwise noted.