"
What other master of the linguistic arts could pen the bombastic acronym Strategic Homeland Intervention Enforcement and Logistics Division?
"
 
Stan By Me is an episode of Ultimate Spider-Man. It aired out of planned production order on August 4th, 2013
Synopsis
The crew go for on a hunt for The Lizard beneath Midtown High.
Plot
Lizard raids Midtown High and starts stealing equipment from the school with Principal Phil Coulson in the process. Lizard attacks Spider-Man in the dark only for Stan the Janitor to end up fending off Lizard. While in the boiler room, Spider-Man is attacked by Lizard and fights him until he captures Harry Osborn when who got in the way of a tech panel. Spider-Man then enters the tunnels beneath Midtown High to follow the Lizard into the abandoned subway tunnels until the Lizard floods the tunnel and makes off with Mary Jane. Spider-Man and Stan the Janitor follow the Lizard to the maintenance room where Lizard has assembled a machine with Harry Osborn and Principal Coulson tied up. While Spider-Man fought Lizard, Stan the Janitor rescued Mary Jane from a flooding hole. Spider-Man tries to reason with the Lizard until Mary Jane breaks free from him. While Stan the Janitor holds off Lizard, Spider-Man works on the machine which ends up driving Dr. Connors side out of Lizard. Spider-Man fights Lizard until Stan the Janitor tells him to go on ahead while he holds off Lizard. Stan the Janitor takes out Lizard who manages to escape. The next day, Stan the Janitor assures Peter Parker that Spider-Man will one day catch Lizard and restore him to Dr. Connors.
Characters
Main Characters
Supporting Characters
Villains
Other Characters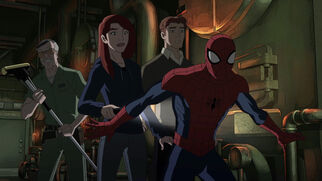 Voice Cast
Trivia
This episode was originally going to air on June 30.
Quotes
Harry: Spider-Man? Oh, great.
---
Spider-Man: Iron Fist? Nova? Is that you?
Videos
References
Episodes
Season 1:
Great Power | Great Responsibility | Doomed! | Venom | Flight of the Iron Spider | Why I Hate Gym | Exclusive | Back In Black | Field Trip | Freaky | Venomous | Me Time | Strange | Awesome | For Your Eye Only | Beetle Mania | Snow Day | Damage | Home Sick Hulk | Run Pig Run | I Am Spider-Man | The Iron Octopus | Not a Toy | The Attack of the Beetle | Revealed | The Rise of the Goblin
Season 2:
The Lizard | Electro | The Rhino | Kraven the Hunter | Hawkeye | The Sinister Six | Spidah-Man! | Carnage | House Arrest | The Man-Wolf | Swarm | Itsy Bitsy Spider-Man | Journey of the Iron Fist | The Incredible Spider-Hulk | Stan By Me | Ultimate Deadpool | Venom Bomb | Guardians of the Galaxy | The Parent Trap | Game Over | Blade | The Howling Commandos | Second Chance Hero | Sandman Returns | Return of the Sinister Six | Ultimate
Season 3:
The Avenging Spider-Man (Part 1, Part 2) | Agent Venom | Cloak and Dagger | The Next Iron Spider | The Vulture | The Savage Spider-Man | New Warriors | The Spider-Verse (Part 1, Part 2, Part 3, Part 4) | The Return of the Guardians of the Galaxy | S.H.I.E.L.D. Academy | The Rampaging Rhino | Ant-Man | Burrito Run | Inhumanity | Attack of the Synthezoids | The Revenge of Arnim Zola | Halloween Night at the Museum | Nightmare on Christmas | Contest of Champions (Part 1, Part 2, Part 3, Part 4)
Season 4:
Hydra Attacks (Part 1, Part 2) | Miles From Home | Iron Vulture | Lizards | Double Agent Venom | Beached | Anti-Venom | Force of Nature | The New Sinister Six (Part 1, Part 2) | Agent Web | The Symbiote Saga (Part 1, Part 2, Part 3) | Return to the Spider-Verse (Part 1, Part 2, Part 3, Part 4) | Strange Little Halloween | The Spider Slayers (Part 1, Part 2, Part 3) | The Moon Knight Before Christmas | Graduation Day (Part 1, Part 2)